A Look into the Dynamics 365 Power App 2020 Release Wave 1
Microsoft's Dynamics 365 Power Apps allows users to create, customize, share, and run mobile apps quickly. The good thing about it is that one does not have to be code-savvy to leverage its capabilities. With Power apps, any relatable maker could create and test an app in a matter of minutes before sharing it with their organization. The 2020 release wave 1 comes with more sophisticated functionalities and improvements that aim to improve its usability and the quality of apps created. For instance, businesses already using Microsoft teams can develop apps from within a channel.
Start Creating apps from Microsoft teams
One of the biggest strengths of D365 Power Apps is the use of Azure, which allows advanced capabilities. As Microsoft continues to work tirelessly to boost the Azure experience, it is also looking to explore even newer capabilities by integrating Microsoft Teams in the app-making process. When coming up with a new app, one can automatically generate the first screens using data from the SharePoint site. This development will allow developers to make apps that are ordained by actual business facts and insights. Employees will also have all the information they need while working on collaborative grounds.
Enabled offline operations
As far as offline activities go, some of the enhancements include faster model-driven apps with more reliability in offline mode to increase the productivity of users. There will be a smoothly continuous offline experience to allow effective communication. As if not enough, elements such as currency and barcode scanner will also be available. These improvements will go a long way towards improving front end-user experience and also enhancing the offline experience. Particularly, being able to work offline will be of great importance for front end employees in case they are operating from an area with poor or no connection.
A single app for canvas and model-driven apps
Currently, users cannot access both canvas apps and model-driven apps on a single mobile app. As part of Microsoft's investment in the mobile platform, they are coupling the 2 ecosystems in a bid to make things easier. The Power Apps mobile app will allow users to access their favorite apps on a single screen, with all these apps displaying in a single list. Besides, developers can leverage available techniques embedded in either of the mechanisms to deliver targeted experiences to users.
High velocity developers of all skill levels
Microsoft ensures that any developer, whether low-skilled or high-skilled, can come up with apps that perform as required. In this line, they are looking to add full-stack low code capabilities that will help in testing, implementing, and monitoring usage. Admins and developers will be able to use telemetry to discover the number of people using a particular app and their sessions as well. They can further group the data by country and browser. The feature will also allow them to build custom queries and reporting attributes.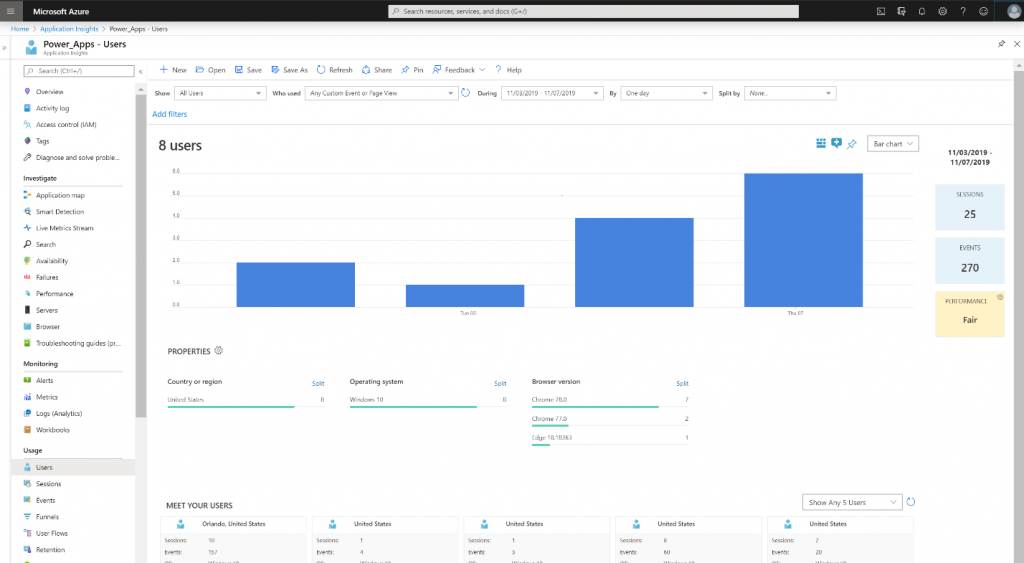 The Classic Solution Import will also be enhanced, such as to allow the creation and authorization of company-specific connections as needed. It will also enable better accessibility, reduced complexity when selecting import commands, as well as set environment variable values as required by other components in the solution.
App makers will be able to point out bugs quickly and fix them, thanks to enhanced capabilities that allow them to import/export log files, inspect, share diagnostic sessions, and filter results.
Improved power app portals
Microsoft is committing to improving portals that help less-skilled developers to do more. For example, liquid tags that only provide read-only parameters will be enhanced using various Web APIs to allow other commands such as creating, deleting, or updating. The portal checker tool, which offers solutions to configuration problems, will now have the ability to discover more scenarios that assist in solving conventional portal issues. The portal designer will also feature a Power BI embedded component to streamline integration so that an app maker can seamlessly add Power BI report or a dashboard by using a designer property panel.
Microsoft promised that they would invest heavily in making Dynamics 365 Power App one of its kind. They have kept the promise, with the 2020 Release wave 1 bringing numerous improvements to the product. All the enhancements will cater for developers of all skill levels. There will be improved usability of apps for both web and mobile gadgets. Later releases will see Microsoft add even better features.